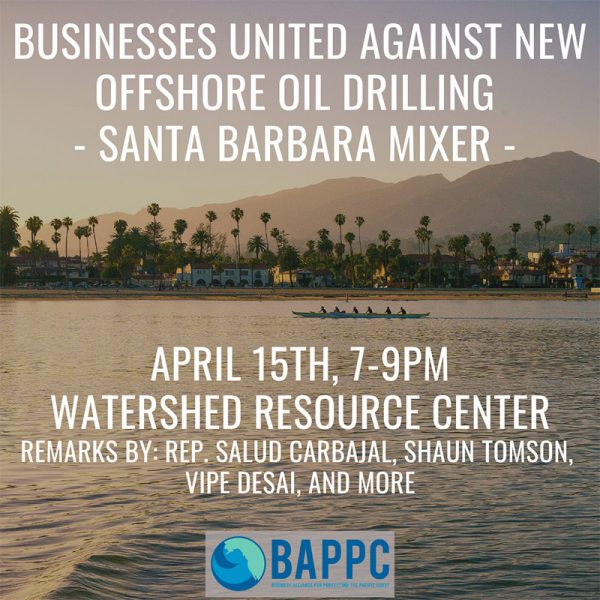 April 15th 7-9pm
Watershed Resource Center
2981 Cliff Dr
Save the date! You're invited to join The Business Alliance for Protecting the Pacific Coast (BAPPC) for an informational and social gathering at the Watershed Resource Center in Santa Barbara from 7:00pm - 9:00pm.
Businesses will hear from Congressman Salud Carbajal, Professional Surfer - Shaun Tomson, BAPPC Founding member - Vipe Desai, along with lead campaign organizers from Surfrider Foundation and Oceana on the Federal Administration's plans to expand offshore oil drilling in the Pacific and the risk this poses to our local coastal economy. Existing BAPPC members will have an opportunity to network amongst themselves, and new businesses are welcome to attend and learn more about how to join the Business Alliance.
The Business Alliance for Protecting the Pacific Coast is the leading business voice opposing new and expanded oil and gas development off the Pacific Coast because of the unacceptable and unnecessary risk it poses to our businesses and the lifestyles of our customers and employees. BAPPC aims to ensure the long-term health and vitality of our ocean ecosystems, coastal businesses, communities, and clean energy future. As of today, BAPPC members represent over 7,500 West Coast businesses opposed to new offshore oil and gas drilling.
Special Guest Speakers:
* Congressman Salud Carbajal (CA-24)
* Professional Surfer - Shaun Tomson
* HDX Mix Founder and BAPPC founding member - Vipe Desai
* Surfrider Foundation - Central and Northern CA Coordinator - Delia Bense-Kang
CONTACT US - If you would like to help donate food / beverages for this special event - thank you!
Learn more about BAPPC at DefendThePacific.org
Help us be sure to provide enough food and know that you and your business will be attending by registering here on Eventbrite: https://www.eventbrite.com/e/businesses-united-against-new-offshore-oil-drilling-santa-barbara-tickets-93599539743
Please check back for updates.